Custom Websites
Westside News offers reasonably priced website solutions from $1095
We want your business to grow smart. By focusing on your objectives and marketing strategy, we guide you through by creating a website that works for you and represents your business professionally. We then train and assist you in making changes whenever needed.
Choose the site that fits your needs. We offer multiple editions of our websites to meet the needs of different organizations. So whether you're a business, organization or a professional group, we can power up your site with the right services for the right price. Click here to view price sheet.
Features include: design, slideshow, email marketing tool, forms built in just minutes and more!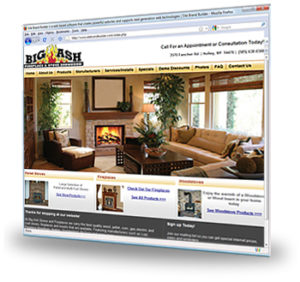 " We chose Westside News for the redesign of our new website. They did a great job for us. Our salesperson, Debbie Day, was wonderful in getting us started and really helped us to create some unique ideas for the site. We were then involved in a few meetings to further organize things and soon after were able to get our new site online.
 Everything is going very well and we appreciate all the support and training that is being offered. I would highly recommend Westside News to anyone looking to create a website. They are easy to work with and do a great job of putting it all together. After the site was finished, they were available for additional help and to answer our questions. Their friendly assistance and prompt responses are to be commended."
Westside News has truly exceeded our expectations!
Sincerely Satisfied,
Chris and Sheryl Nelson
Big Ash Incorporated
www.bigashstoves.com
Contact your Westside News sales representative for more information or
call 585-352-3411 for a free no obligation quote.
Click on links below to view other Westside News produced websites.
http://www.thompsondentalcare.com/
http://www.lawnsrochester.com/